Protect Your Floors During the Winter with These 5 Tips
Our carpets and floors take an extra beating during the winter months. Rain, mud, and even the occasional snow-melt is tracked into your home and mashed into your carpets and smeared onto your hardwood floors on a regular basis.
Keeping your floors clean and in good shape becomes a top priority as feet, paws, and little hands zigzag across them multiple times a day. Keep your floors in top condition this winter by following these floor-saving tips.
Lay Down Extra Rugs and Mats
Moisture, dirt, and hardwood floors are all old enemies as they bring the promise of water damage and scratches.
A good step you can take to protect your hardwood floors is a preventative one. Putting down extra rugs and mats in high traffic areas, such as near the door and in hallways, will help you prevent the common damage that comes with winter. The mats and rugs will trap the moisture and dirt brought in by winter shoes and prevent it from settling onto your beautiful hardwood floors.
Sweep More Often
While extra rugs may help keep the winter elements away from your floors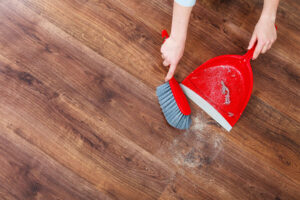 and carpets, sometimes a bit of the outdoors still makes it into the rest of your home. To prevent scratches and stains, sweeping and vacuuming your floors often is a good way to prevent damage to your home. Make sure you clean up any water puddles found in your home immediately as well. The longer water sits on your carpet or hardwood floor, the more damage it can do.
A good way to make sure your floors are cleaned on a regular basis is to hire a professional cleaning service for the winter months. A cleaning service will ensure your floors are swept and vacuumed on a regular basis with a set schedule to prevent dirt and debris build-up.
Have the Right Cleaner
The extra messes in your home that comes with winter sometimes call for specialized cleaners and equipment. If you use salt anywhere near your home to melt through ice or snow then it can get tracked back into your home and onto your wood floors. Keeping cleaner and equipment that can neutralize and remove all traces of salt inside your home is important as salt can cause damage by breaking down the floor's finish. Salt is notorious for damaging wood floors, so having proper cleaning equipment is extremely important to keep them in good shape. If you don't have the proper equipment or time to clean, professional cleaners are skilled in maintaining hardwood floors during the winter months.
Having a good carpet cleaner for any mud or spilled hot cocoa is another must during the winter. Keep carpet cleaner in your supply of cleaners during winter to help maintain your carpet's appearance in between deep cleanings.
Get the Carpets Cleaned
We spend a lot of time indoors during the cold and wet months. Bacteria, dirt, and dander buildup becomes a bigger problem in the winter than it does in the spring or fall. To maintain your carpet's appearance and your health, having them deep cleaned is a good idea.
A carpet shampooing can help remove most allergens, mold, and bacteria from your carpets that builds up when you spend time indoors.
Polish Your Floors
At the end of the season, after you take the extra time to maintain your floors, you may still find your floors have some scuffs and scratches. Don't fret too much about those minor marks. A good, professional floor polishing from your local cleaning company can easily remove shallow scratches and annoying scuffs.
By taking some preventative steps and performing some extra maintenance during winter, your floors can stay looking as good as new. If you would like help maintaining your carpets and floors during the coldest months of the year, call D's Cleaning Service. With floor cleaning services that include general cleaning, carpet shampooing, and floor polishing, D's Cleaning Service can help you protect your floors all winter long.