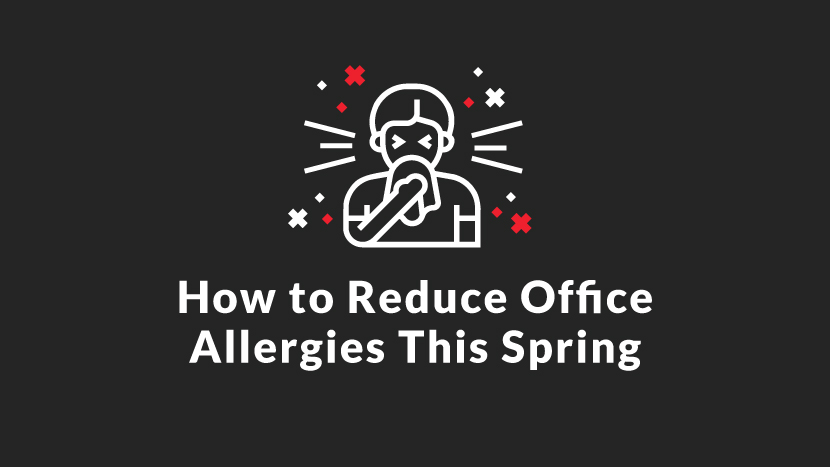 Common Office Allergies Could Have Your Whole Office Sneezing and Sniffling this Spring
Spring is a magical time of the year. The city is covered in blooming flowers, buzzing bees, baby birds, and unfortunately pesky pollen. Spring is a beautiful, colorful season, but it's not all sunshine and rainbows. It is also the peak time of the year for annoying, debilitating allergies. Allergy season in Louisiana can be severe. The worst triggers for seasonal allergies are pollen and mold. These tiny spores travel through the air and, when inhaled, cause an allergic reaction.
Effects of Common Office Allergies

Allergies from pollen and mold can have all your employees rubbing their eyes, sniffling, and holding their heads from headaches and brain fog. These irritations debilitate your employees, dampen the mood, and decrease productivity. Allergies can cause:
Itchy, watery eyes
Runny nose
Congestion
Sneezing
Fatigue
Coughing
Hives or rash
Sore, scratchy throat
Mold, in particular, can cause even more serious symptoms like wheezing, shortness of breath, and lung problems. These incapacitating symptoms can leave an all-star office team feeling sick, groggy, and defeated. We at D's Cleaning Service would like to offer you some helpful tips to keep those pesky common office allergies at bay and keep everything running smoothly.
Reduce Allergy Inducing Materials in Your Office
It may seem like a given, but don't let typical office habits fill your office with pollen, dust, or mold. Avoid letting old materials pile up, like old newspapers and ancient files. These things are often filled with allergy-inducing dust and mold.
Keep doors and windows in your office closed as well to prevent airborne mold spores from riding a gust of wind straight onto your desk. Keep moisture from accumulating in your business, as it will encourage mold growth. Also, be careful with flowers and plants as they will release pollen spores into the air.
Clean and Dust Your Office Frequently
Pollen and dust are inevitable. They float in through the window or air vents and then attach themselves to surfaces in your office, building up constantly. They can't be avoided completely, but they can be combatted with frequent, thorough cleaning and dusting. Keeping your office clean and dusted regularly is an excellent way to stop allergy-inducing mold spores in their tracks and save them from building up to a level that could make your employees sick.
You can hire a cleaning service, like D's Cleaning, to do detailed cleaning and dusting of your office on a regular basis. We have the products, equipment, and know-how to remove pollen, mold, and dust from every surface in your business. Just one cleaning can make a huge difference in the health and productivity of your office, but consistency is key, as allergens are continually building up.
Upgrade Your Air Conditioning Filters or Get a HEPA Air Purifier
Since most allergens travel through the air, upgrading the filter in your air conditioning system or purchasing a HEPA (High-Efficiency Particulate Air) Air Cleaner can be a great way to clean the air. You can change your air system filters to high-efficiency filters. MRV11 or MRV12 filters have the best rating, according to James Sublett, MD, a board-certified asthma and allergy specialist. "If you change them out every three months, it costs about 50 cents to a dollar per week, which is pretty inexpensive," said Sublett. You can also get air system filters made specifically for trapping allergens.
Alternatively, you can purchase a separate air cleaning system, such as a HEPA Air Purifier. These high-quality air filtration systems are made specifically for cleansing the air of pollutants and allergens, such as pollen, mold, or dust. HEPA Air Purifiers can be very inexpensive and efficient for combatting allergy problems. You can purchase different sizes and efficiency levels, depending on the area of the space you need to purify and the extent of your problem.
Use D's Cleaning for a Quality Spring Cleaning
Remember these helpful tips to keep your employees from getting bogged down by common office allergies this spring. Reduce the amount of allergy-inducing materials in your office, clean and dust very thoroughly and frequently, and upgrade your air filtration system. If you're in need of a dedicated, professional cleaning service to help keep your office spic and span and allergy-free this spring, call D's Cleaning Service in Baton Rouge.