The Best Apartment Cleaning Service in Baton Rouge Cleans Your Building from Top to Bottom
Keeping your apartment building presentable helps you bring in more tenants. From your office where you sign rental papers to the units that tenants rent, your apartment building needs to be clean and fresh at all times. With D's Cleaning Service, your apartment building will always be sanitized and ready for tenants. As the best apartment cleaning service in Baton Rouge, we'll have every part of your apartment ready for show.
Lobby Areas & Clubhouses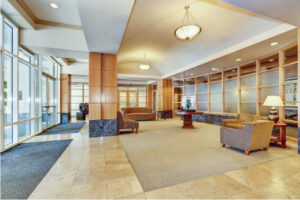 D's Cleaning Service keeps your lobby and common spaces clean and ready for your tenants. We know amenities such as gaming areas, gyms, and kitchens are part of what sells your apartment complex. We keep your amenity spaces looking great with sanitation services specific for each area. We ensure your TVs and gaming systems are dust free and that your gaming controllers are wiped down. Our team sanitizes gym equipment to keep your tenants healthy. We also wipe down kitchen areas to ensure no bacteria or germs are left over.
We know you've worked hard to provide amenities to your tenants, which is why we are here to help you keep them looking like new for longer with our regular cleaning services.
Office Areas
Your office is where you spend a lot of time. It's also where future tenants meet with you to sign their leases. You need an office that is spotless and organized to impress tenants. At D's Cleaning Service, we know how to keep your office clean as we have cleaning services geared specifically toward offices. We will wipe down desks, dust computer keyboards, and vacuum carpets for a fresh office space.
With schedule options, we can come clean at a time that works best for you. Whether you need us there after hours or before you open, we'll ensure your office is clean and ready for visiting tenants.
Tenant Move-Out Cleaning
Even the best tenants in the world can turn into nightmares when it's time for them to move out. From simply not cleaning stains out of the carpet to the total destruction of the property, tenants can leave your property a mess. At D's Cleaning Service, we provide apartment move-out cleaning to get your unit ready for the next tenant. From deep carpet cleaning to pressure washing, we ensure your rental unit is cleaned and sanitized.
When you need to ensure your apartment building is clean from top to bottom, D's Cleaning Service in Baton Rouge is your go-to cleaner. We take care of every aspect of your apartment so tenants are impressed and happy at all times. Call D's Cleaning Service today to schedule your apartment cleaning services at 225-572-9497.