Don't Let A Coffee Stain Ruin Your Day, Remove it with These Tips
The morning sunshine is peaking through your kitchen window to find you sitting in your favorite spot at the dining table. You raise an over-filled cup of joe to your lips when you slightly miss your mouth and see the scorching espresso-colored liquid hit your spotless carpet.
Don't panic! Coffee stains aren't as impossible to remove as you might think. With these tips from D's Cleaning, you'll have those stains out before they set in no time.
Getting Rid of Fresh Coffee Stains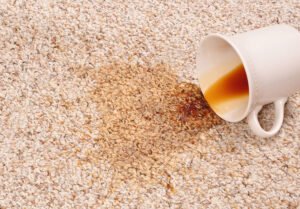 A fresh coffee stain can be a dreadful thing. The liquid seeps into furniture fabric and quickly darkens a small or large area (depending on the amount spilled). The situation isn't completely hopeless. Remember, plenty of other coffee drinkers have been in your shoes too! Here are a few items you may have around the house that can remove a fresh stain before it gets worse:
Grab a salt shaker and sprinkle salt on the stain. Be sure to use enough salt to cover the stain with several layers before leaving it alone for a minute. Then gently rub it away with a paper towel or cloth. It may not completely remove the stain, but it should prevent it from spreading further.
Baking soda is more than likely to work better than the salt at removing the stain. Before you begin dumping baking soda onto your stain, use a damp paper towel to blot the area. Then sprinkle baking soda over the stained area and let it seep in for a few minutes before removing it with a dry towel. This method may still leave a mark, but it will get the majority of the coffee stain out.
If you have baby powder handy, then all you need to do is apply it on the stain and let it sit for a few minutes before brushing it off with a damp cloth or paper towel.
Getting Rid of Dried Coffee Stains
The only thing worse than a fresh coffee stain is a dried coffee stain. These types of stains are tougher to get out because the liquid has already seeped deeply into the fabric or carpet fibers. To get rid of these stains, you'll need patience as well as liquid laundry detergent or dish soap.
Combine a few drops of liquid detergent or dish soap with some water and rub your fingers into the stain. After rubbing, let the stain sit for five minutes then rinse the stain with cold water. Repeat these steps until the stubborn stain fades away.
Getting Tough Coffee Stains Out of Carpet with Extra Power
Don't fret if coffee spills onto your home's carpet. It won't be easy, but it is possible to remove with our tips and a little bit of elbow grease. Here are a few solutions so you can recover your carpet:
Mix a spoon of white vinegar and liquid dish soap with about two cups of room temperature water. Blot the stain with a cloth or paper towel. Continue blotting the stain while alternating with wet and dry cloths or paper towels until the stain disappears.
Hydrogen peroxide is a gentler bleach cleaner that won't damage your carpet. Spray the stained area with hydrogen peroxide without saturating the carpet, then place a damp dish towel over the stain and pass an iron over the towel for 20-30 seconds. Move the iron around the towel until the stain is lifted.
Get your stained carpet back to its original crisp, clean quality with carpet cleaning services from D's Cleaning. We have the equipment, industry-grade solutions, and top-grade training to get the trickiest of stains out. Our deep cleaning services also gets dirt and allergens out, creating a healthier environment.
With these tips, you'll be able to remove unexpected or old coffee stains from your furniture or carpet quickly and efficiently. Call D's Cleaning today at 225-572-9497 to get help cleaning the coffee stains out of your carpet that you can't handle on your own.