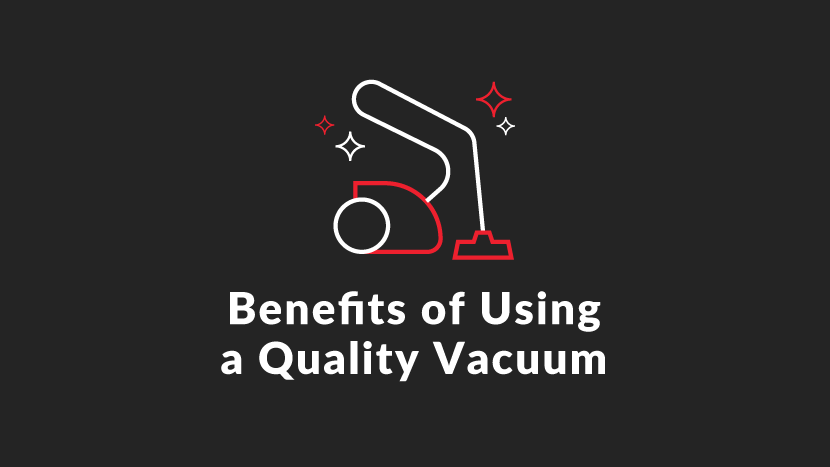 Four Benefits of a Quality Vacuum Cleaner
Vacuum cleaners are a go-to cleaning tool in almost everyone's home. Whether you have a large area rug, wall-to-wall carpet, or hardwood floors – vacuums have the features to do it all. Here are four top benefits of having a quality vacuum in your home or office.
Easier, Effective Cleaning
In this day and age, cleaning equipment has evolved to be lighter, yet more powerful while also having more handy features than before. Vacuums are now easier to pick up, move, and even transform to be handheld. These newer features and benefits have made cleaning messes anywhere easier and more effective.
Removes Allergens and Pet Odors
High-quality vacuum cleaners use high-efficiency particulate air (HEPA) filters to block and remove up to 99.97 percent of dust, pollen, mold, bacteria, and any airborne disease-causing germs, so that you can breathe easier. A quality vacuum should require this feature, especially if you or your family is prone to allergies and illnesses such as emphysema and asthma.
A good vacuum cleaner will also suck up all of your pet's hair from any surface in your home, along with removing the source of any bad odors. A vacuum with attachments that can reach into crevices is best for this type of cleaning, so you and your family can keep pet allergies at bay.
Convenient Clean-Up

Along with a more effortless clean, it's a faster one too. If you choose to invest in a quality vacuum cleaner like a robotic type, you get the benefit of setting up how frequently you want your vacuum to clean your space. This way, you can get the cleaning done before you get home from work.
This is a handy feature for any unexpected mess. For example, if your cat knocks over a house plant – you won't have as big of a mess on your hands with a robotic vacuum cleaner there to tidy up while you're away.
Versatile Cleaning Tool
A quality vacuum cleaner will be a handy tool that can clean more than just rugs and carpets. Vacuum cleaners on the market that are worth their salt have the ability to clean more than just carpets and rugs. Vacuums can tackle floors, car interiors, drapery, and more using the appropriate attachments.
Professional Carpet & Floor Cleaning from D's Cleaning
Need help with vacuuming your home or business? D's Cleaning provides the best in deep carpet and floor cleaning services in the Baton Rouge area. The best part? We save you the time and work it would take you to do it, so you can focus on more important things. Your home will be beyond clean after we do our job. Call D's Cleaning to schedule an appointment.