Make Sure Your Facility is Cleaned Regularly to Prevent These 5 Dangers
When working on a tight deadline or on certain projects, cleaning may not always be on the top of your priority list. It's easy to let dust pile up and debris to become a forgotten decoration in the corner. Allowing your facility to become dirty, however, can severely damage your company.
Maintaining a clean environment for yourself and your employees will prevent costly injuries and consequences. Don't let proper cleaning slip from your priority list because you could end up facing dangers and spending more money than ever.
Slips and Falls
A dirty facility or construction site can become dangerous when proper cleaning is not constantly kept up. A fine layer of dust or spilled liquid can easily cause a walkway to become hazardous. Chunks of debris from construction or other projects can also cause employees to trip and injure themselves.
A cleaning company can make sure your walkways and facility floor is kept clear of dust and spills with regular cleanings. With clean floors and unobstructed pathways, your employees will be less likely to slip and fall, saving you and your employees from a costly injury.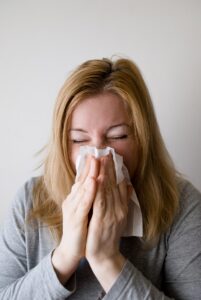 Allergies and Sickness
Millions of people suffer from allergies and asthma. A dirty facility can make it hard for your employees to breathe. It can even trigger asthma symptoms such as chest tightness, shortness of breath, and coughing.
In addition, a dirty facility is likely to lead to sickness when bathroom and kitchen areas aren't properly sanitized on a regular basis. When your facility causes your employees to feel sick, the work produced may suffer in quality.
Bad Reputation and High Turnover
Unhappy clients tend to talk, and you can bet they won't be chatting positively about a dirty facility either. A poorly maintained facility will leave you with a poor reputation as people spread the word.
Bad working environments can also cause a high turnover rate because employees are not likely to enjoy working in an unsanitary place. You'll spend more time and money constantly training new employees when you don't have a cleaning crew keeping your facility clean and clear.
Efficiency Decrease
With a high turnover rate and employees having to maneuver around debris and hazards, work efficiency will greatly decrease. You'll find that the same work takes twice as long to complete when your employees have to worry about cleaning on top of doing their own jobs. For example, if your employee has to pick up chunks of dry wall from a path before walking through, he or she will be forced to hold up their work.
Hiring a cleaning company to clean your facility or construction site can ensure that your employees stay focused on their jobs. A clean facility means employees can work efficiently without interruptions to their jobs.
Broken Equipment
Dirt and grime build up is often a cause of equipment malfunction. Grime can cause the deterioration of critical systems or parts by reacting to substances or corrupting technology. Keeping your facility clean can help ensure that your machinery and equipment properly operates for a longer period of time.
It's better for you and your wallet to prevent the need to replace a costly machine by keeping your facility clean with a professional cleaning company.
A dirty facility can cause many problems for you and your employees. To maintain a safe and clean environment, call D's Cleaning Service. With construction cleanup services and contract services, we can come clean your facility or site when you need it most. Daily, weekly, or only when you need it, we can ensure your place is cleaned on your schedule. At D's Cleaning Service, we'll help you keep your facility sanitized and the dangers minimized with proper facility and construction cleanup.