Why Holiday Cleaning is Necessary for Family Gatherings
The end of November through December can be an overwhelming time for holiday party planners. With Thanksgiving just around the corner and Christmas not too far away, you may feel like you can't catch a break. From decorations to food, the host must take care of every detail to throw a successful holiday event.
While prepping your place for guests may seem stressful, the best way to make a memorable impression on your family and friends is with a clean home. A clean residence can show your guests how much you care and make spreading holiday cheer easier for you.
Prepare Rooms for Overnight Guests
When relatives com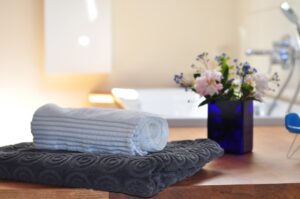 e into town for the holidays, having rooms ready for them to stay in is a great way to show your holiday hospitality. The beds should be made with clean sheets and comforters so they are ready for your guests to rest.
Prepare your rooms for overnight guests like any hotel would. This includes fresh towels, vacuumed floors, dusted ceiling fans, and working lights. For an extra touch, you can also provide spare toiletry in case there's anything one of your guests forgot to pack for the visit.
The Kitchen is the Heart of the Home
The kitchen may be the largest cleaning project in your whole house during the holidays. Whether it's Thanksgiving, Christmas, or New Year's Eve, holiday gatherings are always centered around the kitchen. From the garbage disposal to the stove-top, make sure everything in your kitchen is in working order and clean.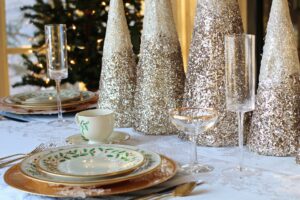 The kitchen atmosphere should have an inviting presence that draws the family together. A clean kitchen can help do just that. In addition to adding decorations and homey touches in the kitchen, you can make sure the kitchenware and utensils are properly cleaned for holiday gatherings.
While some families may use plastic plates and utensils for their holiday feasts, others may bring out the nice dinnerware. Dining sets that are not used often should be disinfected and washed thoroughly to prevent any risk of food contamination from dusty plates. The last thing you want is to do is get your holiday guests sick.
Hire a Cleaning Service to Help
While there may be a lot to do to prepare your home for holiday guests, you don't have to get your home holiday-ready on your own. Hiring a cleaning service can save you a significant amount of time when preparing for your guests. Instead of scrubbing the floors until they shine, you could be decorating your home, wrapping gifts, or even taking some much-needed time to relax.
D's Cleaning Services can give you the help you need this holiday season. There's no need to stress or feel pressed for time. Our staff is fully equipped to help you with all your cleaning needs. From light cleaning to shampooing carpets, we can help do it all so your family and friends are impressed with your wonderful home. Have your house ready for your holiday guests with D's Cleaning Service.